---
Version
Anpassungen

1.0 (2020-02-29

Initial version
2.0 (2020-08-18)
- Renamed to

UrsAI2Util


- Method

MoveTaskToBackground

added
- Method

SimulateHomeKey

added
- Event

OnDestroy

removed, raising of events in

Form.onDestroy

is not supported
2.1 (2020-10-27)
Method

FileListFromAssets

added.
---
Download
The ZIP archive UrsAI2Utils for downloading. The archive contains the source code and the compiled binary and a sample project to upload to the App Inventor.
Usage
The extension provides functions for three functional areas.
Events
onPause

,

onStop

,

onResume

The following graphic shows the life cycle of an Android Activity.
For some applications it can be interesting to know the state of the app. The extension provides events that are triggered when the state changes. Unfortunately, only four of these changes can be accessed via the App Inventor Framework. onCreate is already implemented in the screen component as Initialize. onPause, onStop, onResume are provided by this extension.
Block
Funktion
The

Initialize

event is run when the

Screen

starts and is only run once per screen.
The app is (partially) covered. User input is not accepted.1)
The app is moved to the background.
The app becomes visible and accepts user input.
1) In all my attempts at these events, onStop was always triggered after onPause.
---
StringToHex
This function should make debugging easier. Especially for data exchange purposes it can be interesting to know what the internal representation of a String is. Usually it is UTF-8 coded.
Block
Funktion
The string in the argument

Text

is converted to a string that contains the hexadecimal representation of the individual characters. e.g. "abcß" becomes "61 62 63 C3 9F".
---
Image-Import
Mit der MQTT-Extension lassen sich Byte-Arrays übertragen, dies können z.B. auch JPEG-Images sein. Die Methode konvertiert das Empfange Byte-Array in ein Bitmap-Objekt und zeigt es auf einem im App Inventor enthaltenen Komponente Image an. Diese Methode darf nicht mit der Eigenschaft Picture der Komponente verwechselt werden! Picture erwartet den Dateipfad auf eine Image-Datei.
Byte arrays can be transferred with the MQTT extension, e.g. this may be JPEG images. The method converts the received byte array into a bitmap object and displays it on an App Inventor Image component. This method should not be confused with the Picture property of the component! Picture expects the file path to an image file.
Block
Funktion

JPEG

: Byte array that contains a JPEG image.


ImageBlock

: A component of the type

Image

on which the image is to be displayed.


Rotation

: Rotation angle.
A typical use of the block could look like this: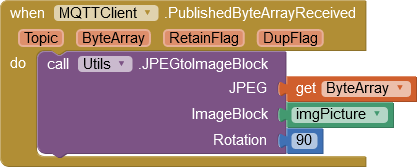 ---
Other functions
Block
Funktion
Moves the app to the background.
Simulates pressing the home button.
Returns a list of the asset file names with the specified extension.
"*" return all.
---
For developing own extensions I gathered some tips: AI2 FAQ: Develop Extensions.